Community Participation
Signing Cooperation Memorandum for Disseminating Culture of Self-Employment
Signing Cooperation Memorandum for Disseminating Culture of Self-Employment between College of Pharmacy and National Entrepreneurship Institute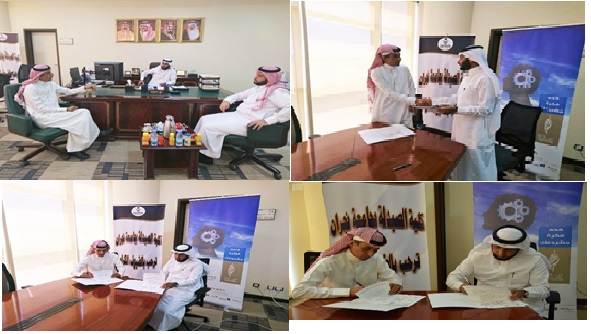 In line with the vision of the Kingdom 2030 and the keenness of Najran University, represented by the College of Pharmacy, to have an effective contribution to dissemination of the culture of self-employment among the students of both sexes and encouraging them to engage in entrepreneurship. In this context, the College of Pharmacy signed a cooperation memorandum with the National Entrepreneurship Institute aimed to instill the value of self-employment among the graduates and enhance self-confidence among them to contribute effectively to the development and improve the national economy. The Dean of the College of Pharmacy at the University of Najran Dr. Saad Bin Ahmed Al-Qahtani and Mr. Saleh Bin Mohammed Sadran of National Entrepreneurship institute represented both sides. .
Dr. Saad Al-Qahtani pointed out that the fields of entrepreneurship and self-employment encouragement enjoy strong support, and direct attention by our government led by the Custodian of the Two Holy Mosques King Salman bin Abdulaziz, may Allah protect him, making it in advanced levels. He pointed to the importance of taking full advantages by youth of such programs provided by the government for getting financial and moral support. Such programs open new prospects for self-employment and self-reliance to face the challenges of the market and competition and to achieve success in entrepreneurship and development of small projects.
The Dean commended the role played by the National Entrepreneurship Institute for supporting youth through programs that seek to provide an integrated system of services of interest to young people who are interested in the ambitious self-employment and help them follow the right path from the early stages.